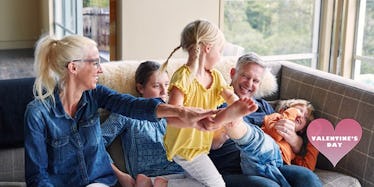 The 9 Best Ways To Show Love To Your Family On Valentine's Day
Trinette Reed
Valentine's Day, is, like, fine. I guess.
For the most part, I think it kind of IS a commercialized way for stores to sell us bogus products and get couples to spend money on expensive dinners.
But what if we flipped the script and really tried to celebrate the coming together of loved ones? Why not show your family you love them and are thinking of them too?
We recently sent out a sexy reader survey asking millennials about their feelings on Valentine's Day, and some of the statistics were pretty surprising.
For example, while it showed that a whopping 38 percent of men think it's nice to spend the holidays with a romantic partner, 37 percent of women feel it's a time of year to celebrate ALL relationships (romantic, friendships, family and otherwise).
Plus, about 10 percent of both men AND women have gotten dumped ON or close to Valentine's Day, making it basically the best time of the year to refocus your energies on the people who love you no matter what — aka your fam, fam.
Here are seven fun and useful ways to get your fam in on the feel-goods this Valentine's Day, and have less of a jaded, cold, dark heart.
Call them.
It ACTUALLY doesn't get any easier than this. For so many millennials, having any kind of conversation more than 140 characters can feel like a whole big to-do, let alone actually dialing someone and talking to them in person.
For Valentine's Day, poor yourself a cup of coffee, find a comfy seat and park it. Go down the list and hit everyone you always put off or usually rush with — mom, dad, siblings, grandparents, aunts and uncles. You wouldn't believe how far an unexpected phone call "just to say hi" goes.
Plus, you might actually have the opportunity to catch up on their lives and learn things about their day-to-day you didn't know before!
Do that thing they always ask you to do, but you never do.
In my case, it's sending my mom photos I have saved on my phone. After any family event, holiday or get-together, my mom always says to me, "Be sure to send me those pics!" and I never, EVER do. It will take me two seconds, but for some reason, I just never get around to it.
Maybe, in your case, it's something more obvious like helping around the house or helping your little sibling with school work.
Whatever that thing is, make Valentine's Day the day to do it.
Get them personalized sweets.
Dylan's Candy Bar is giving love-birds the sweet chance to customize their own candy, however they see fit! (If it was me, I'd use a picture of my boyfriend's hairy butt, but don't let me influence you.)
Using an insane 3D candy printer called "Katjes Magic Candy Factory" (ugh technology, you sexy bitch), you can send your family sweet gummy treats with a picture of your family pet or childhood house printed right on it.
It's a great way to make someone smile, plus, ya know, SUGAR.
Be the parent for a day.
You're not 15 anymore. How can you support your parents? Sure, sure, maybe they aren't incapable elderly folk, but you're young, up to speed on current events and technologies and might have some skill sets that can help them out.
Get your parents set up with some apps that would be useful to them. Help your mom clean out the attack. Look into programs or local resources that will up their quality of life or peak their interest, like a book club, lawn service or wine tasting class.
It's incredible what a little TLC can do between parents and their kids.
Brew up some love.
Not really "morning people?" My family either. And I know first thing in the morning, the best thing anyone could do for us is serve up some hot, delicious, caffeinated, sweet, sweet crackoopsImean coffee.
Bring home the love with these liquid activated heart mugs, and literally watch their adoration for you grow.
Plan a trip, even if it's way in advance.
According to our survey, 14 percent of women and 22 percent of men agree that traveling would be a bomb way to celebrate Valentine's Day. Why not use that inspiration and get the gang TOGETHER?
When can you realistically go on a vacation? What can that vacation be?
Maybe it's planning a simple weekend getaway camping trip the weekend of Valentine's Day, or maybe it's booking a hotel at Disney World for six months from now. See how you can help make this family trip possible, and come at them with the plans ready to go, all they have to do is say "yes!"
It'll be a great way to get something fun on the calendar and show them you are jazzed to see them.
Get your family pet involved.
Who says humans get to have all the fun?
These adorable and delicious-looking chocolate covered strawberries will be just as much fun for Fido as they would for you, if like, they were real or whatever.
In my family, we all love our standard poodle like WAY more than we love each other, so it only makes sense to include her in the love-fest celebrations.
Get competitive with family game night.
Healthy competition is just as good at bringing family together as Thanksgiving or birthdays, and nothing beats bonding over a Pictionary victory. You could also hold an at-home karaoke competition using strictly love ballads!
Ah the punny options are endless.
If you're geographically close enough, set up a game night. Winners get to pick their favorite kind of chocolate out of the Valentine's Day chocolate box first.
Tell them you love them in every way you can.
This might come as a surprise, but you know your family better than me. You know how to make them feel loved better than anyone.
Whatever that thing is, do it.