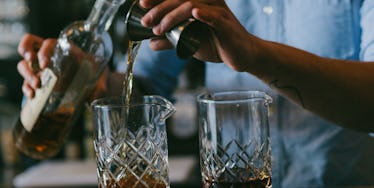 Here's What You Should Be Drinking On Valentine's Day According To A Mixologist
There's no better time than Valentine's Day to finally profess your love to that special someone.
But if you ask me, pouring yourself a cocktail sounds a lot more fun than pouring your heart out.
And, let's be real, if you are going to talk to your crush, it never hurts to add a little liquid courage into the mix.
Yep, liquor and love tend to make the perfect pair.
But when it comes getting sauced for this sappy occasion, not all cocktails are created equal.
If you're looking for a way to lift your Valentine's Day spirits to the next level, look no further.
Elite Daily stopped by American Cut in NYC to meet with LDV Hospitality's renowned mixologist Camilo Trujillo to see which cocktails you should actually be drinking this heartfelt holiday.
Whether you're bonding with your boo over bubbly, cursing Cupid while sipping on a citrus cocktail or simply resisting the urge to drunk text your crush as you down a rosé-inspired drink, these amazing cocktails are guaranteed to make you drunk in love.
Take a look at the pictures below to see these lovely libations.
Master mixologist Camilo Trujillo gave us the low down on how to craft the perfect Valentine's Day cocktails.
You can make a "Bee Mine" for your love bug....
Recipe: 1 fresh-squeezed blood orange, muddled 2 oz of gin 1 oz of lime juice 3/4 oz of honey water 2 dashes of citrus bitters Combine ingredients in a shaker. Pour and garnish with a slice of blood orange.
...or take your taste buds on an adventure with a couple "City Of Love" cocktails.
Recipe: 1 1/2 oz of Calvados Cardinal 1/2 oz of Grand Marnier 2 dashes of french vanilla extract Stir ingredients together. Pour over ice and garnish with an orange twist.
A delectable "Date Night" drink is always a good choice.
Recipe: 1 1/2 oz of vodka 1 oz of espresso 1/2 oz of date syrup Combine ingredients in a shaker. Pour and garnish with espresso beans.
If you're feeling frisky, you can fool around with a "French 69"...
Recipe: 1 oz plum gin 1/2 oz of Lillet rosé 1/2 oz of lemon juice 1/2 oz of simple syrup 2 dashes of rhubarb bitters Combine ingredients in a shaker. Pour, top with Prosecco and garnish with sage.
...0r give bae a rosy "Bouquet" filled with booze.
Recipe: 2 oz of Pisco 3/4 oz of lime juice 1/4 oz of simple syrup Combine ingredients in a shaker. Pour, top with rosewater and garnish with a rose bud and basil.
These lovely libations are guaranteed to give you all the feels.