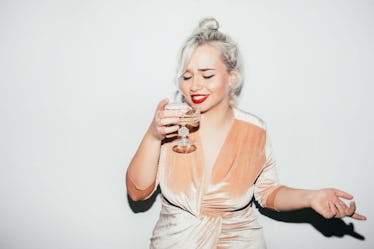 Experts Recommend These 7 Strategies If You Want To Feel More Confident At Parties
One of the most overrated stereotypes about college, in my experience, was the partying. While I absolutely love spending time with my friends, it can be so daunting to walk into a house full of people you don't know, especially if you're not a huge fan of small talk. College student or not, though, you're bound to get an invite to a shindig that's a little less familiar to you at some point, so if you want to learn how to feel confident at a party, there are some easy strategies you can use to cut some of the anxiety out of the night.
Whatever you do, make sure to be gentle with yourself along the way, says Dr. Nancy Mramor, an award-winning author, speaker, and psychotherapist. "Decide your own outcome for a success with social anxiety management," she tells Elite Daily in an email. "Your personal standards are the only ones that matter in the long run. If you fall short, be kind to yourself, see what you could do differently, and try again."
Even if a party doesn't go quite the way you planned, remember that it doesn't mean anything about your worth. Being a little awkward in a new social setting is definitely not something to be ashamed of.