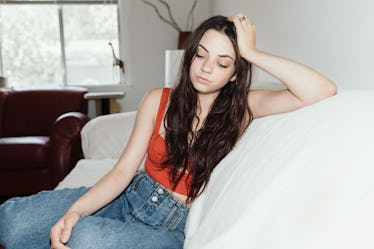 5 Tips For Living In A Dorm If You Really Love Your Space & Alone Time
I remember my first day of college and dorm living like it was yesterday. My parents drove me to my new campus, carried my boxes and bins up to the third floor of my building, and helped me unpack. They helped me set up my mini fridge and put sheets on my loft bed, all while we patiently waited for my roommates to arrive. For the entirety of my freshmen year, I would be living in a quad — which meant I was going from zero roommates to four. Don't get me wrong — I was so excited. But I was also a little nervous because I liked my "me time" and wasn't quite ready to give it up. Can you say the same? Of course. That's why you're looking for some tips for dorm living if you like your space that'll help you get some much-needed alone time.
TBH, it's easier to enjoy your own space in college than you may think. Especially once classes and extracurriculars start, and you get into your new routines, you'll find there are hours of time when you can listen to your podcasts and Netflix shows. You can eat your snacks without your new besties asking if they can have some, and blast the latest album from Taylor Swift without anybody saying, "Can you turn that down?"
The key is to find those periods and use them wisely. In addition, you have to embrace these tips for dorm living that are tried and true.