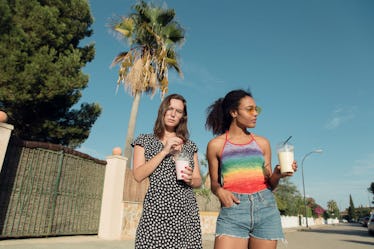 Before Rejecting A Bad First Date, Keep These 5 Things In Mind
It's easy to think that a less-than-great first impression will result in a less-than-great relationship, but guess what? That, my friends, isn't always the case. First impressions aren't everything, especially when people are nervous. You know what gets people nervous? First dates. So before rejecting a bad first date because the conversation was stale and the chemistry wasn't all there, you might want to think twice. Completely shutting the door on someone before really getting to know them might stop you from meeting the person who might totally rock your world.
It may be tempting to go into a first, second, or even third date with an agenda and try to figure out everything you can about this person in one go. But dating coach Evan Marc Katz previously told Elite Daily that's the last thing you should do. "If you go into the date with an agenda — I'm going to figure out what this guy's deal is, I'm going to figure out what's wrong with him, I'm not going to get hurt, I'm not going to waste my time like I did with the last guy — then they're not going to have any fun, and they're not going to want to see you again," he said.
So many factors can contribute to a mediocre first date. Perhaps neither of you really liked the spot you hit up, or one of you had a bad day and the stress was affecting your demeanor. Whatever the case, consider these five things before sending them a "I had fun, but..." text.