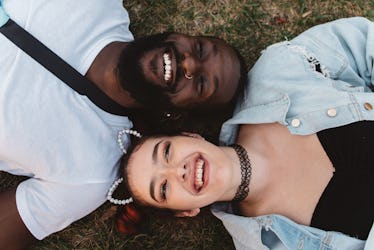 The 1 Thing Matchmakers Tell Their Clients About First Dates Will Change Your Dating Game
Going on a date with someone new for the first time can conjure up some serious feels. It's totally normal to be both excited and anxious leading up to a first date, but these jitters can make it tricky to be your best self. Fortunately, I brought in the big guns and spoke to a few professionals to find out what matchmakers tell their clients about first dates — because I'm sure we all want to know. Let's not pretend we haven't heard the whispers. You know, the whispers about the friend of a friend's rabbi's cousin who had a first date and knew from the moment they woke up the next morning that their date was "the one."
Sadly, for the most part, things don't work out like they do in fairytales. Dating isn't always effortless, and sometimes it can actually be super draining and stressful. When meeting someone new for the first time, there can be so much pressure for things to go perfectly. Planning the perfect outfit, meeting at the perfect restaurant, sporting the perfect, "I care, but not too much" attitude. However, according to these matchmakers, here are the important things you should actually consider.