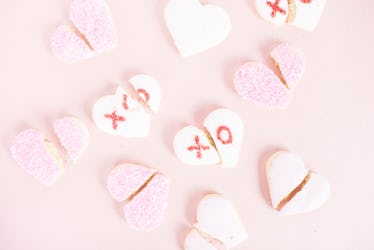 How To Enjoy Valentine's Day When, Deep Down, You Actually Hate It
Valentine's Day can be an annoying holiday, no matter how you slice it. While I do enjoy making handcrafted valentines for my friends and eating heart-shaped candies, there's this looming expectation that you should be spending the holiday with the ~love of your life~ and like, I don't know, making out at the top of the Empire State Building while wearing your new diamond earrings or something. Truth be told, I can't recall having a Valentine's Day, single or not, that felt particularly romantic, which is why considering a few things to do if you hate Valentine's Day is always a great way to prepare for it.
Yes, my V-Day-despising friends, I'm here for your dirty little secret. And if you, like me, do not want to drop a couple hundo on a prix fixe menu or, on the flip side, simply sit alone watching Netflix while either lamenting or celebrating the freedoms of being unattached, why not consider some less conventional ideas so that you don't have to ignore the holiday altogether?
Below are a few inspirations and suggestions for a new take on Valentine's Day for those of us who find the whole thing a little less than bearable.