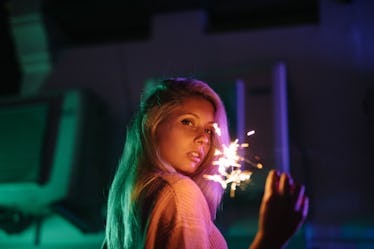 5 Reasons To Stop & Celebrate Being Alone In Your 20s
Javier Díez, Stocksy
How often have you heard the saying, "Stop and smell the roses?" Odds are, you've come across it at least a few times. Your best friends have likely said it in the middle of heart-to-hearts about living in the moment, and your mom may have mentioned it after your most recent breakup. You may have rolled your eyes and pretended that it was just cheesy and ridiculous, before realizing that it makes a lot of sense, especially in those in-between periods of life. Truth is, you have to get excited for the times when you're not dating anyone or are "alone." You need to realize that there are things to celebrate about being alone in your 20s.
First things first: There's nothing wrong with being in a relationship and giving your all to another person. In your 20s (or any other decade of your life), it can be the most beautiful and rewarding adventure to find someone who you wholeheartedly care about and fall effortlessly in love with. But, I also want to make the point that the periods of time when you find yourself alone have their own perks and privileges, too. Hear me out, OK?
These are the times when you can reflect, act, and appreciate. You can look back on your old relationships, create change, and find happiness in anything and everywhere. You can stop and smell the roses, and celebrate these five things. Confetti? Required.