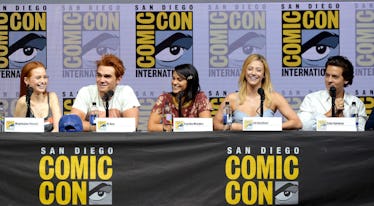 5 Things The 'Riverdale' Comic-Con Panel Revealed About Season 3
Kevin Winter/Getty Images
It has been a little over two months since Season 2 of Riverdale ended on a major cliffhanger, and now, the cast is already spilling some secrets about the upcoming third season of the dark teen drama. For the past couple of months, Riverdale fans have been hunting for any clues about what might happen in Season 3, but finally, we got our first official debriefing over the weekend when the Riverdale cast and showrunner Roberto Aquirre-Sacasa took to the stage at San Diego Comic-Con to dish about what will happen next in the town of Riverdale. Here's everything the Riverdale Comic-Con panel revealed about Season 3 to get you pumped for the upcoming season.
1. The Cult Is Coming To Town
The biggest and most mysterious confirmation from the Comic-Con panel is that the shady cult (referred to as The Farm) that took Polly Cooper in after she gave birth to her twins is going to make its appearance and play a major part in Season 3 of Riverdale. We even got our first look at the cult in the Season 3 trailer that dropped on Sunday, which shows Alice Cooper and Polly holding up Polly's infant twins Dagwoog and Juniper in all-white clothes in front of a fire.
As fans will recall, at the very end of Season 2, Polly mentioned that she was going to invite a healer from The Farm to come to town and help Alice recover from the trauma of finding out that her husband was the Black Hood. And more recently, Riverdale announced that it was adding the character of Edgar Evernever to Season 3, who is described as "a new-age health guru" who helps Alice. During the Comic-Con panel, Mädchen Amick said that Edgar is a handsome cult leader, and she also hinted that he is adept at growing greenery and making tea. Interesting...
2. We Will Get To See The Parents As Kids In A Flashback
We get to see a ton of drama play out among the teenagers on Riverdale, but a huge chunk of the real mysteries in the show go back to the various things that the adults did as children and now keep covered up. Well, fans are about to see for themselves what Fred Andrews, Alice Cooper, F.P. Jones, Hiram Lodge, and the rest of the Riverdale parents were really up to back in the day, because Season 3 will include a flashback episode to the parents when they were in high school.
3. There Will Be Another Musical Episode
And that flashback episode won't be the only very special episode in Season 3 — the new season will also include the show's second musical episode.
4. The Jones Women Will Finally Be Introduced
Season 3 will deliver something fans have been waiting for since the first season of the show. Cole Sprouse confirmed that we will finally meet Jughead Jones' mom Gladys and his sister Jellybean at some point in Season 3.
5. There Will Be A New Love Triangle That Threatens Choni
Judging from her castmates' responses, Vanessa Morgan may have slipped when she began talking about how Cheryl Blossoms dubious relationship with Josie McCoy will progress. Of course, Cheryl and Toni Topaz ended Season 2 as one of the show's strongest couples, but we also saw Cheryl hiding a crush on Josie that she seemed to have been repressing for quite a while. It sounds like Season 3 will explore Cheryl's feelings for Josie... possibly even to the detriment of her relationship with Toni.
Want more? You can check out a video of the full Riverdale Comic-Con panel for yourself below:
Riveradale Season 3 will premiere on the CW on Oct. 10.