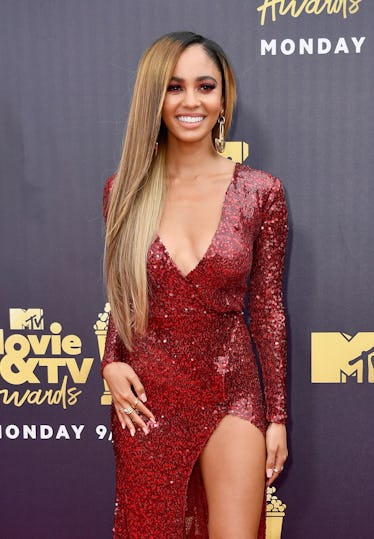 Vanessa Morgan Reveals 'Riverdale' Season 3 Details & Fans Should Get Ready For More Toni
Frazer Harrison/Getty Images Entertainment/Getty Images
Riverdale Season 2 may have only ended a month ago, but questions surrounding the third season have been on fan minds ever since the finale's final frame. The twisty teen drama is Pop's Chock'lit Shop full of intrigue and cliffhangers. What will happen to Archie? Is Chic still out there? Will Cheryl and Toni take their relationship to the next level? Fortunately Elite Daily caught up with Toni Topaz herself on 2018 MTV Movie & TV Awards red carpet — Vanessa Morgan revealed a few Riverdale Season 3 details that will get you even more pumped for the CW hit's return.
Writing for the upcoming episodes of Riverdale is still underway and filming won't kick off until later this summer, but even Morgan has an idea of what she would like to explore for her character. Southside Serpent Toni was introduced as a recurring force last year, but Morgan's since been promoted to series regular for Season 3. Hurrah! What can we expect for her (and that whole super-shipped thing with Cheryl) and what does she hope to go into when Riverdale comes back? Morgan told Elite Daily:
You're gonna see a lot more of Choni's relationship, I've heard. Which is great. And because I'm a series regular now I'm really just hoping you'll see more of my backstory and more about my family life which would be nice.
Riverdale viewers haven't gone too deep into Toni's homelife as of yet. Now that she's here to say in a major way it would be valuable to get further into where she's coming from and who her family is. Last season gave us a glimpse when her grandfather Thomas — the oldest living Serpent — got some screentime, but perhaps that was only the beginning. Oh, and more Choni? Not mad at that.
Riverdale had a big night at Monday, June 18's MTV Movie & TV Awards, as the series was nomimnated for four Golden Popcorn statues. While the show lost out to Stranger Things for best show, Madelaine Petsch was awarded a Scene Stealer win for her portrayal of the wickedly magnetic Cheryl Blossom.
Petsch and Morgan might play on screen love interests, but they're also long-time pals in real life.
"It's like I won the lottery," Morgan recently told PopSugar about working alongside her best buddy. "Not only am I going to be on the same show as my best friend, but now we get to be girlfriends. Instead of kissing one of the actors on the show, it might as well be your best friend."
The future of Riverdale's many mysteries might hang in the balance, but it's nice to know that Cheryl and Toni have a chance at survival.
"Toni Topaz has been a break-out character for us since Jughead met her at Southside High – and that's thanks to Vanessa Morgan's fearless, winning performance," showrunner Roberto Aguirre-Sacasa explained to TV Insider following the news of Morgan's series regular status. "We're thrilled that the adventure of this fan-favorite will continue into season three. Long live Choni!"
Long live Choni, indeed.
Now if only Riverdale could debunk some of the crazy fan theories out there so fans can focus on what's real. What's the most insane one Vanessa Morgan has ever heard?
"Probably... I've heard one that Cole Sprouse's actual biological father is Ross from Friends," the actress told us.
Ben Geller? Is that you?
Morgan also revealed that her dream guest star for Riverdale is one hundred percent "Beyoncé" and I can't argue with that, so here's hoping all her wishes for the series come true someday.
Riverdale returns to the CW on Wednesdays next fall.