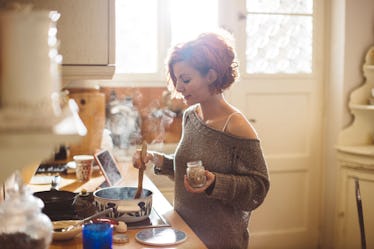 If You're Doing These 5 Things In Your Life RN, Science Says You're Officially Adulting
Whoever coined the phrase "time flies when you're having fun" wasn't kidding, because it feels like just yesterday that summer vacation meant lying out by the pool and hanging out with my besties all day, every day, for three months straight. Now when I look in the mirror, I see a 26-years-young woman staring back at me. I'm an adult, and that means having to do all the things that make you an adult, like working Monday through Friday, June through August (and every other month of the year, while you're at it).
Seriously though, when people say millennials are lazy or entitled, I just laugh because, really, are either of those character traits an option post-grad? Don't get me wrong: There are definitely some lazy and entitled people out there (and TBH, I've had my moments, too), but from what I can tell, that's a human thing, not a generational thing. Plus, even science has millennials' backs these days — but more on that in a moment.
Granted, you might not be living in a penthouse because your student loan debt is off the charts, and budgeting in a few slices of avocado toast might be tight if you're not willing to give up a Starbucks Pink Drink or two. But rest assured, millennial baby, you've got your sh*t in order, and Mattress Firm has the statistics to prove it. The mattress retailer recently issued a survey to uncover how millennials define "adulting," and the next time someone even suggests people in my generation don't know what they're doing, please go ahead and shove this research right in their face, because survey says you've got everything under control, my friend.
But what does that even mean? What are the true signs of being an adult, and how do you know if you're checking these boxes off in your own life? Here's how millennials are defining "adulting" in 2018.