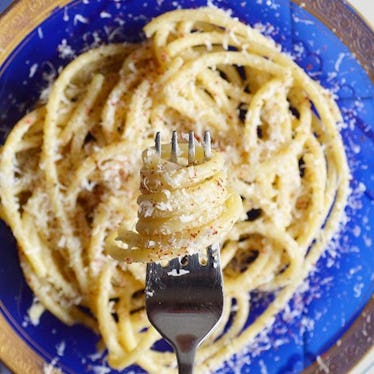 7 Simple & Tasty Dinner Ideas From Instagram With Only 3 Ingredients (Or Fewer)
Admit it: Nothing sounds better than coming home after a long day of work and meticulously dicing vegetables, measuring out a host of spices, and watching, hawk-like, over your food to make sure it doesn't burn. That was sarcasm, by the way. That sounds absolutely terrible. Sometimes (read: most of the time) you just need to make something incredibly easy with as few ingredients as possible. These easy-to-make recipes have only three ingredients (or fewer).
Not only are they crazy simple to make, they also keep you and your pockets full. And, you can finally know for sure what exactly you're putting in your body. And, hey, just because they're simple doesn't mean they're not worthy of the 'gram. Here are a few recipes you won't hate making (and showing off).
Three-Ingredient Pancakes
Go ahead, live a little and eat breakfast for dinner. It could become your new thing. You could put it in your Tinder/Coffee Meets Bagel/Whatever-else-the-kids-are-doing-these-days profile. Get the recipe for these babies here.
Bean And Cheddar Quesadillas
I can't explicitly recommend including spinach in these quesadillas because that would bring the ingredients up to four, but it's what I would do. If corn tortillas aren't your jam, feel free to use flour.
Cacio E Pepe
Pasta, pecorino romano, black pepper — this dish is basically an elevated macaroni and cheese. And as Chefanie makes clear, the pasta water is very important! The amount of water and cheese you use depends on how much pasta you cook. For a healthy single serving of pasta, I'd use a third of the package. As for the water, reserve about a cup. You probably won't use all of this, but it doesn't hurt to have more than you need. Make sure to take the portion you are reserving out of the pot right before the pasta is done cooking — you want it to get nice and starchy.
Add about a half-cup of the water to a pan and then enough grated cheese to make the mixture creamy. You can always add more water if it gets too thick. Crack some pepper into the mixture, and then add the pasta. Taste some of the pasta and then adjust with more cheese, more pasta water, and/or pepper to your taste.
One-Pan Steak And Veggies
Mmmm, that butter sauce looks good. But to make this a true three-ingredient recipe, we will have to skip it and rely on good ol' salt to flavor the steak and veggies, which, trust me on this, will be very tasty. Get the recipe here. And make sure to make the full dish a weekend project because… butter sauce, duh.
Sausage, Mushroom, And Fried Egg
This dish is the best kind of home cooking — simple, filling, and delicious. Pro-tip: Sauté your sausage in a pan, then remove it and cook the mushrooms in the leftover fat. You could make this a one-pan dish by pushing your mushrooms to one half of the pan after they are sautéed and frying the egg in the other half. To make sure your egg doesn't stick, use a non-stick skillet or a well-seasoned cast iron pan. Oh, and make sure to remove the meat from the casing before breaking and cooking it up in the pan. Get the recipe here.
Sheet Pan Roasted Chicken And Broccoli
This recipe could definitely become a part of your weekly dinner rotation — it's easy to make and easy to clean up. Keep it from getting too familiar by switching up the vegetable. Brussels sprouts and cauliflower cook in about the same time as broccoli, so those would be good substitutes. You want your veggies to get nice and crisp (they'll be more flavorful this way), so make sure you don't crowd your sheet pan.
Olive Oil-Poached Salmon With Citrus
This recipe looks and sounds fancy, but is actually really easy. Eat with some leftover salad, cooked greens, or rice, and you've got yourself a meal. Once you've practiced it, you could even serve it at a dinner party, prompting your friends to wonder how they, too, can reach your level of adulthood.