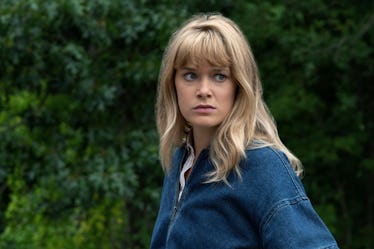 5 Theories About Cassandra From 'The Society' That Will Make You Rethink Everything
Seacia Pavao/Netflix
Netflix's The Society has sent its fans into intense theorizing about its Lord of the Flies-esque plot and what that surprise ending means for a possible second season. Although the show seemingly answered one of its earliest mysteries, viewers aren't quite ready to give up on this particular storyline. Theories about Cassandra from The Society prove that fans aren't too convinced about what happened to the character in Season 1.
This post contains spoilers for the entire first season of The Society. The first episode of The Society introduced Cassandra (Rachel Keller) as West Ham's golden girl, serving as class president, star of the school play, and loving big sister to Allie (Kathryn Newton). She took charge when the teens' camping retreat was cut short and they were dropped off in a place resembling their hometown but missing their parents. As the group came to grips with being in a confined parallel universe, Cassandra established working schedules and gathered the women together to maintain order.
But at the end of Episode 3, fans were shocked when Cassandra was shot and killed outside the kids' makeshift prom. As Allie, Gordie (Jose Julian), and the Guard began investigating her death and confiscating guns, loner Greg Dewey (Seth Meriwether) essentially confessed to Harry (Alex Fitzalan) that he shot Cassandra. He was arrested and put on trial, initially playing coy about his truth before admitting he killed her because "she had it coming."
The Guard and Allie later executed Dewey in the woods. Although his emotional state finally seemed to align with the remorse of a murderer, some fans find Dewey's act a little too unbelievable. The Society may have let the mystery of Cassandra's death culminate with Dewey's execution, but viewers on Reddit are debating other options. Did someone else kill Cassandra? The theories below break down the possibilities if the reveal of Dewey didn't satisfy you.