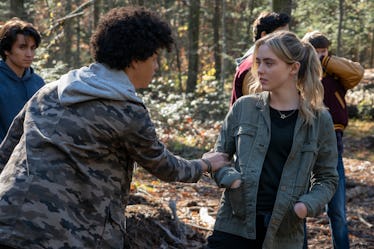 7 Reddit Theories About 'The Society' That Will Hold You Over Until Season 2
Seacia Pavao/Netflix
You probably remember the bare minimum from your high school reading of Lord of the Flies, but if you want a moralistic story without references to Piggy or conch shells, Netflix's newest series The Society might be for you. Featuring a group of teens who end up in a strange place resembling their hometown and missing their parents, Season 1 of The Society ended with a cliffhanger that had the people of Reddit investigating. If you can't wait for a second season's explanations, Reddit theories about The Society may keep you satisfied for now.
This post contains spoilers for the entire first season of The Society. As of June 4, the mysterious drama has yet to receive a second season renewal from Netflix, but as The Society only premiered on May 10, it's still a little early for the streaming service to decide the show's fate. Until then, fans' online chatter ensures that The Society's addictive combination of Lord of the Flies-meets-Lost has captured audiences' attention.
In the show's first episode, teenagers from West Ham, Connecticut, were sent away on a camping trip as their town experienced a pungent smell plaguing its air. When the teens are forced to return halfway through their bus ride due to a blocked road, they find their town deserted and their parents nowhere to be found. They eventually come to the conclusion that a man named Pfeiffer took them to a completely confined parallel universe resembling West Ham as a result of their parents' mistakes.
The season finale detailed a coup as leader Allie (Kathryn Newton) was wrongly accused of trying to steal a mayoral election, but the real twist came when The Society confirmed that the kids' old world still exists. While the teens are building their own civilization in New Ham, West Ham residents are mourning the loss of the 200-plus students. If you can't get over that ending, check out these theories about what it means. But if you're looking for guesses about other aspects of the show, the Reddit detectives have got you covered. Here are some noteworthy theories to keep in mind for Season 2: