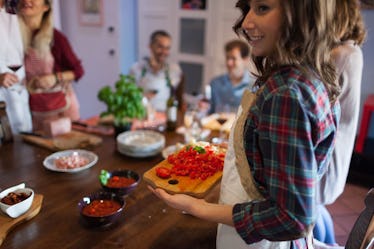 Experts Say These 5 Thanksgiving Foods Can Keep You Calm When Your Fam Gets Cringey
Not to be a negative Nancy right off the bat, but the holiday season isn't the most wonderful time of the year for everyone. In fact, Thanksgiving can bring up a lot of emotions for some people, and sometimes none of the gratuitous variety. It's not easy to break bread across the table from a family member you haven't exactly meshed with over the years, but if tensions are running high, at least you can take comfort in the fact that Turkey Day is a foodie holiday, and some Thanksgiving foods can boost your mood better than others. It may not be ideal to have to sit through uncomfortable conversations, or even be in the same room if there's that much bad blood between you and another person, but when things get uncomfortable, just scope out the buffet table and load on the goods.
There are two kinds of good-mood foods: foods that contain certain chemicals, vitamins, and minerals that have a concrete effect on how you feel, and foods you associate with happy memories. "Any food that provokes or invokes a happy memory, perhaps a fond childhood dish your family member makes, may psychologically induce a good mood," Monica Auslander Moreno, MS, RD, LD/N, a nutrition consultant for RSP Nutrition, tells Elite Daily.
Because these memories and emotions are so personal and subjective, she adds, foods that uplift your spirits may not necessarily have the same effect on someone else's mood.
For example, for me, the happiest of Thanksgivings I can remember featured buttered rye toast and coffee for breakfast while my mom and nana finished up the last of their cooking. Nana always made these incredible miniature mushroom caps filled with shrimp stuffing, and my mom's sweet potato casserole cannot be matched. Then there's my sister's cranberry slaw, which tastes amazing on Thanksgiving leftover sandwiches post-Black Friday shopping.
All of these foods make me feel merry and bright, no matter who's at the dining room table. But maybe cranberries are too tart for your tastebuds, shrimp is too fishy, and sweet potato just isn't your thing. Every family's spread is different, meaning the foods you associate with happy holiday memories are going to be unique to you and your palate.
But, on the off chance that there really isn't any one particular Thanksgiving dish that holds sentimental value, or this year you're feeling less like Tiny Tim and more like a Scrooge, no judgment. Trust me, we all go through it, and if this year just happens to be the year of the grouch or unfortunate events (i.e. someone invited the bad seed to the holiday buffet), there are foods you can eat among the Thanksgiving spread that naturally boast a few mood-boosting qualities. Here are the key five to look out for.