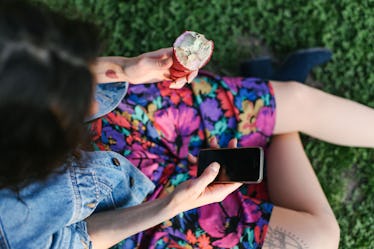 5 Texts To Send The Day Of Your First Date To Confirm You're Still On
If you've got a first date on deck, you're probably brimming with some combination of excitement, nerves, anticipation, and perhaps a pinch of panic. After all, the possibilities are endless. Sure, it could be awkward AF, but it could also be totally amaze — and based on your banter thus far, you're leaning toward the latter. But before you get carried away fantasizing (or agonizing), it's worth making sure you're still on. Because the depressing reality is, people are flakier than ever in today's dating world. Looking for some texts to send the day of your first date to confirm it's still happening? Fret not — I have a few ideas that should do the trick.
Confirming your plans via text is a smart move before a first date because TBH, you don't really know how reliable this person is yet, and you haven't built up any kind of connection, either, which means they may be more likely to bail. (Basically, they don't know how amazing you are yet. Because obvi, if they did, they'd never flake out or cancel.) Confirming your date gives you peace of mind that they haven't had a change of plans or a change of heart.
The only question is, what should you say? Sure, you could opt for a simple, "we still on?" but there's hardly anything unique or attention-grabbing about that. Why not use this as an opportunity to not only confirm your plans but also load on the charm? Here are a few texting templates to get you started.