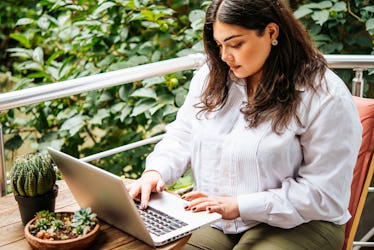 5 Subtle Texting Clues That Mean Someone Wants To Ask You Out
Shutterstock
Asking someone out can be straight-up empowering. When you finally drop a, "Want to get dinner sometime?" it's like a Lizzo song starts playing in the background and everything you say for the rest of the day is a *mic drop* moment (even just ordering takeout to eat alone in your bed). So when you feel the romantic tension building over the phone with your crush, knowing how to spot the texting clues that someone wants to ask you out can help you beat them to it.
"At a certain point, you have to take the necessary steps to get what you want," relationship coach and texting expert Claudia Cox tells Elite Daily. "Otherwise, you are just going to end up as pen pals."
If the prospect of asking somebody out totally freaks you out, I get it. Although putting yourself out there can be scary, making the first move can remind you how much of a boss you are. It can even show your crush how much you like them.
Although you or your crush may eventually send a, "Do you want to go out?" text, Cox shares some subliminal messages that may mean someone wants to ask you out.