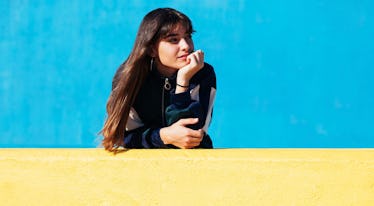 5 Signs You're Not Over Your Breakup Yet & Need More Time To Heal
It's no secret that getting over a breakup takes time, regardless of who ended things. If you just got out of a relationship — especially if you were together for several years — it's only natural to need a minute (or, you know, a few) to heal and move on. Understanding the signs you're not over your breakup yet and recognizing them in yourself might help you realize you need a little more time, and there's nothing wrong with that. After all, moving on doesn't happen overnight.
While it would be nice to have an exact timeline for when you "should" be fully over someone, that's not always realistic. Everyone is different. "This truly depends on a couple of things," Chris Armstrong, founder of the relationship coaching company Maze of Love, previously told Elite Daily. "If your ex was the one to break up [with you] and you did not see it coming, it could take several months." On the other hand, "If you broke up with your ex and you had been mulling it over for a bit, it may only take a couple of weeks to a month," Armstrong said.
If you recognize any of the following signs or behaviors within yourself, it might mean you're not over your breakup just yet. Don't be too hard on yourself, because everyone's different. Trust that you will get there when you get there, and everything will fall into place.