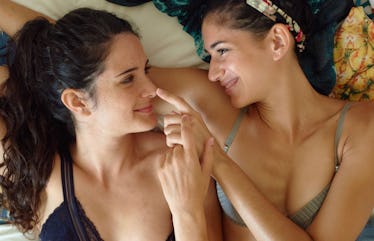 5 Sexy First Anniversary Date Ideas That Celebrate Your Hot, Hot, Hot Bond
Every relationship has milestone moments — the first time you introduced each other as "girlfriend" or "boyfriend," the first time you both said "I love you," and the first time you went number two at their apartment. (These are not in order of emotional significance!) One of the biggest milestones could be your first anniversary, and figuring out how to celebrate the day can be tricky. Sure, romance is great and all, but consider these sexy first anniversary date and gift ideas as a way to celebrate not only your love, but your super steamy connection with your partner.
When it comes to celebrating anniversaries, some people might want to make a national holiday out of the day, while others might not think it's a particularly big deal. So before you make plans or buy a gift, have a conversation with your partner about your anniversary. Find out what their expectations and hopes are and share yours; that way, you'll both be on the same page. Over the course of your first year together, you and your partner have likely gotten comfortable and settled into a routine — both in life and in the bedroom. Consider your anniversary as an opportunity to spice things up a bit, all in the name of love.