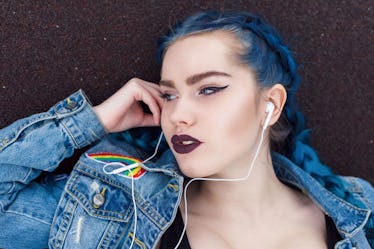 If You're Craving Ghost Stories For Halloween, These 5 Podcasts Will Have You Spooked
Although watching a scary movie or visiting a haunted house is guaranteed to give me the heebie jeebies, there's something even more terrifying about just listening to horror stories. A stranger's voice drifts into your ears, but you have nobody and nothing to actually watch, so you can't anticipate what's going to happen next. Plus, the realistic sound effects you hear in most scary podcasts never fail to bring you straight into whatever horrifying story you're listening to. If leaning into all things ghoulish is your passion, you have to put these scary podcasts for Halloween on your playlist.
For me, watching crime shows like Criminal Minds or Law & Order: SVU is the perfect way to play with fear and suspense a little bit in a safe context. Although each episode is based on an actual crime, I've grown familiar enough with the casts and the format of each episode that it's a reasonable amount of fear for me.
Similarly, each podcast on this list strikes a balance between true terror and a consistent, comforting format. I'll be honest, though: I've only been brave enough to listen to these podcasts in the daylight, but if you're a seasoned horror fan, try making one of these your next bedtime story. Happy nightmares, friend.