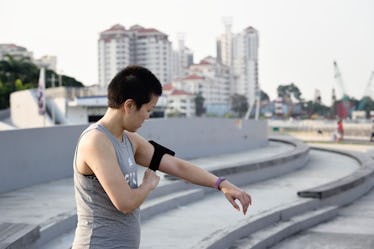 Here's How To Stay Safe When You Go For A Run By Yourself, According To Experts
Running solo can be an incredibly therapeutic and rejuvenating way to de-stress and clear your mind after a long day. However, it's important to keep your safety and wellbeing in mind when running on your own, especially if you're doing so late at night, or you're jogging through a particularly deserted area. Of course, this isn't to stop you from going out and doing your thing; all I'm saying is it doesn't hurt to be proactive in gathering a few safety tips for running alone, so you can maintain peace of mind each and every time you lace up your sneakers and hit the pavement.
Of course, it's always a good idea to prioritize your safety, but given that we recently set our clocks back for Daylight Saving Time, and the sun now sets at (a very depressing) 4:45 p.m. most days, that means, if you're running at night, you need to be that much more vigilant about your surroundings. And look, I don't mean to freak you out, but there is some evidence to suggest a slight increase in crime rates when we turn the clocks back, as per a 2013 report from NPR.
This doesn't mean you have to be destined for treadmill runs for the rest of eternity, though. There are definitely ways to remain both safe and confident during your solo runs. Here are five safety tips for running alone, from two women who do it all the time.