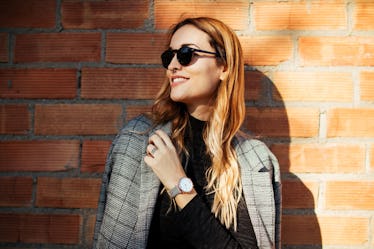 The 4 Things You Should Do To Prepare For Daylight Saving Time, According To Experts
On Nov. 4, the clocks will fall back for Daylight Saving Time, and you and I will enjoy a glorious extra hour of sleep. But the reality is, even if you're getting one more hour of shut-eye, there's still a change in your body's internal clock that coincides with the fall-back of the clock on your phone, and it can affect you in ways you might not expect. So if you're wondering how to prepare for Daylight Saving Time to ensure you're not completely jet-lagged and out of it, there are definitely ways you can minimize the effects.
And listen, if you're skeptical about how Daylight Saving Time affects your body, I get it. After all, it's only a difference of an hour, and things usually feel like they're back to normal by the very next day, if not sooner. But research has shown that the effects of DST are real, y'all: One study from Finland, for example, compared the rate of strokes in over 3,000 people hospitalized the week after DST, to the rate of strokes in about 11,000 people hospitalized a couple of weeks before or after the DST change. According to a press release from the American Academy of Neurology, the study showed that the overall rate of strokes may increase as much as 8 percent in the days following DST, and that percentage only seems to increase in cancer patients and the elderly.
Study author Dr. Jori Ruuskanen, of the University of Turku, told CNN,
Previous studies have also shown that the disruption of the circadian clock due to other reasons (e.g. due to rotating shift work) and sleep fragmentation are associated with an increased risk of stroke. However, we did not know whether stroke risk is affected by DST transitions. What is common in these situations is the disturbed sleep cycle, while the immediate mechanisms for the increased risk are unknown at the moment.
So no, I'm not saying you have to worry about having a stroke when the clocks change on Nov. 4. But clearly, your body is sensitive to these seemingly subtle changes, so it's worth it to prepare as much as you can. Below, a few experts weigh in on what to do for the smoothest DST transition possible.