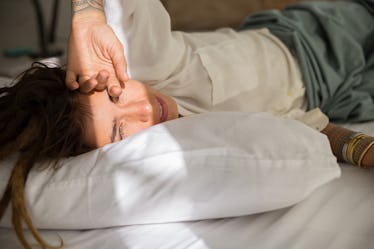 Daylight Saving Time May Do These 5 Things To Your Body, So Prepare Yourself
It's that time of year again, folks. Daylight Saving Time is taking an hour away from us this Sunday, Mar. 11, as we "spring forward" into warmer weather. When you wake up that morning, and can't understand how in the world you slept until noon, keep in mind that you only really slept until 11 a.m. But that mental mind game isn't the only way Daylight Saving Time affects your body. Believe it or not, the changing of our daily schedules by a full hour can have some pretty wild effects on your circadian rhythm, which in turn can affect both your physical and mental health.
Your circadian rhythm is essentially your body's internal clock, according to the National Sleep Foundation, and it works to manage your sleep/wake cycle, which basically just lets you know when your body needs to sleep. And when you do sleep, your circadian rhythm allows you to go through the phases of your REM cycle that ensure you get a healthy, full night's rest.
But when your circadian rhythm gets thrown out of whack by something like Daylight Saving Time, it can potentially have some seriously negative effects on your health.
The main deterrent to any of these health risks, luckily, is simple: planning for extra sleep in advance. Keeping your body well-rested is the best way to combat the potential side effects that come with Daylight Saving Time. Here are five ways springing forward this Sunday may affect your body.