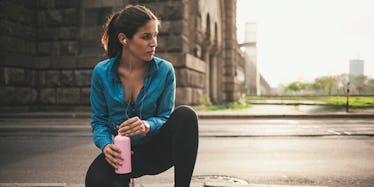 If You're A Runner, Look Out For These 5 Red Flags The Next Time You Pound The Pavement
The feeling of going out for a nice long run when the weather is just right can be a truly blissful experience. That endorphin-infused, feel-good runner's high is no joke, my friends, and it feels freaking incredible. However, if you do pound the pavement on the reg, there are definitely a few running red flags that you should be on the lookout for, to keep your body safe and happy while you're out there on the roads.
If you're a runner, it can be all too easy to get lost in the magic of your stride (not to mention the kickass playlist you made to keep you motivated), and to forget about the precautions you should always be taking to prevent injuries and keep yourself safe. But there are a few subtle signals you can tuck into the back of your mind to pay attention to, which will notify you that something's up before the issue turns into a more serious injury, or a recurring source of pain. After all, if you're someone who looks forward to your daily jog, you know there's nothing worse than getting sidelined because of a pesky, but totally preventable injury.
Make sure you're mindful of these five running red flags so you can pound the pavement in peace.