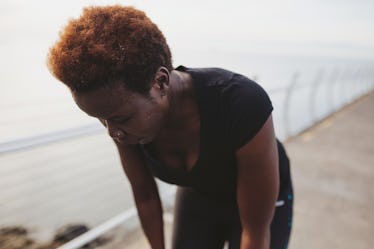 These 8 Red Flags Might Mean You're Pushing Yourself Too Hard In Your Workouts
If you live by the motto "no pain, no gain," or you frequently exclaim that your HIIT circuits "hurt so good," you're probably the type of person who challenges yourself to the max during your workouts. And while this isn't necessarily a bad thing, it's important to be aware of the potential repercussions of pushing yourself too hard in a workout routine. Paying attention to workout red flags that tell you when to back off, and give yourself and your body some well-deserved TLC, is essential when it comes to maintaining an active and balanced lifestyle.
Of course, some of these red flags are pretty obvious, and it can be clear that your body is all but begging for a rest day: You're ridiculously sore long after you've worked out a certain part of your body, or you're feeling irritable during and after your workouts for no apparent reason.
But there are also a handful of less common indicators that you're ignoring your body's signals to chill the f*ck out. All of these signals from your body are of equal importance, and it's crucial to pay attention to all of them so you can avoid injuries, that general burnout feeling, and of course, keep your body healthy and strong, rather than tired and overworked.
Make sure that you're being mindful of these eight red flags that might pop up during your workouts, because they could mean that you might be going a bit too hard, my friend.