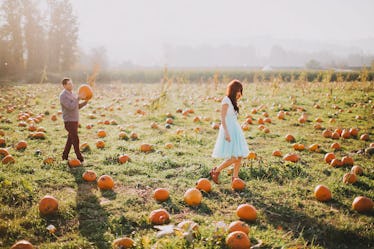 5 Romantic Ways To Celebrate Halloween If It's Just You & Bae This Year
When pondering holidays that have the most romantic potential, Halloween often gets pushed to the wayside. Sure, it's definitely considered by many to be one of the most ideal days of the year to go out in search of a casual hookup. However, it's probably safe to say that the majority of people overlook All Hallows Eve as a night that can present some romantic opportunities to spend time with a partner or date. For starters, romantic ways to celebrate Halloween 2018 can include just about anything you and your partner would enjoy doing together. You don't have to wear a costume and hit the town if that's not necessarily you and bae's scene. That said, taking advantage of all the fun and special activities that only happen during the fall season can be a really enjoyable break from the norm, costumes not required.
The fact that Halloween lands on a Wednesday this year also means that most people with nine-to-five jobs aren't going to be able to go as ham on the actual day as they would've if it was on the weekend. But, before you resign you and your bae to watching your go-to show and heading to bed early, here are five romantic date ideas you could try out instead.