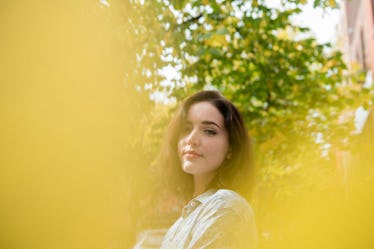 5 Questions You Should Never Feel Guilty About Not Answering When Asked
From what I can tell, there's no "right" way to grow up and become an adult. There are no flashing lights, neon signs, or arrows on billboards that lead you to nine to five jobs or grocery shopping routines. At some point, most of us just land on our feet, not knowing how exactly we got there. So, it's also come to my attention that questions like, "What do you want to be when you grow up," are asking, well, way too much. They're expecting a clear and concise answer, and most of the time, you feel bad for not having one. Let me be blunt with you for a second, then: There are some questions you shouldn't feel guilty about not answering when asked — not now or ever.
The truth is, nobody has everything figured out. Like you, the person asking these questions may be considering different career paths or what they want out of a relationship. They're juggling a bunch of different commitments and trying to figure out where they're "supposed" to be in life, too. (Spoiler alert: That's a waste of time. You're exactly where you're "supposed" to be.)
What they don't realize, though, is that they're making you feel a little guilty. They aren't putting themselves in your shoes, and approaching the situation as if it were reversed. That's why I'm here to tell you that these five questions can be absurd. It's OK to not answer or feel guilty about them, like ever.