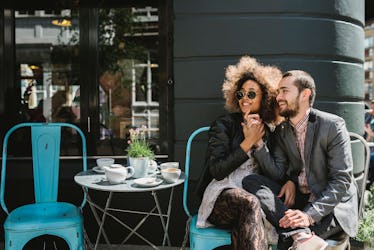 5 Revealing Questions To Ask On A First Date When You're Ready For Something Serious
GIC, Stocksy
Real talk: First-date fodder can be daunting AF. You know what's even more challenging? Trying to suss out whether your date is down for something serious without coming off too intense. Sure, you're trying to go with the flow and trust the process, but why should you waste your time if they're only seeking something super casual? That's why there are certain questions to ask on a first date if you're eager to assess whether you're on the same page.
Asking lots of questions is undoubtedly the key to a successful first date. After all, this is your first opportunity to get to know as much as you can about this person, which will then help you figure out if you want to get that second date in the books. But as for asking the right questions, it's a little easier said than done. Dig too much into deep topics this early on (like, say, their last breakup) and your date might start to feel more like an interrogation. But if you play it safe and only ask lighthearted, surface-level questions about their favorite fro-yo flavor or what they're currently binge watching, you likely won't learn much about your date besides shallow tidbits.
Looking for a serious relationship? Ask these revealing questions to figure out whether your date has long-term bae potential.