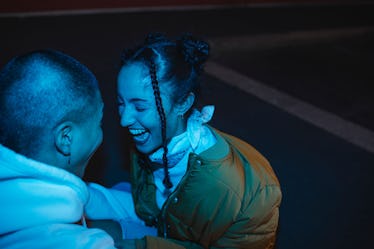 7 Clever Questions To Ask On A First Date, Because Getting To Know Someone Should Be Fun
When people first meet me, they assume I'm a confident extrovert. But the truth is, I'm actually a super shy, awkward person who's learned how to fake it until I make it. Eventually, I learned to pass for someone with social skills, even if inside, I'm freaking out. So, how do I pull off this epic ruse? I formed a list of clever questions to ask on a first date, at a party, at a work function — basically anywhere, because this tactic works in just about any situation. The thing is, most people really just want to talk about themselves, and if you ask about them, and then actively listen to their answers, they will do all the work for you. They come away from the conversation thinking, "Hey, that girl has social skills." Nope! Joke's on you, because I'm actually a weirdo who just asks a lot of lighthearted, open-ended questions.
This worked especially well on first dates, where my nerves were even worse. If that sounds like you, then experts agree there's no shame in preparing, just in case there's a lull in the conversation. "I believe in having a cheat sheet of questions to ask," Julie Spira, online dating expert and author of The Perils of Cyber-Dating, told Elite Daily. Just make sure that when you do dip into your questions, you play it cool and don't start asking one question after another in a panic, because "firing off questions like you're in a job interview or being interrogated by an attorney is an instant buzz-kill," she said.
So, what makes for clever first date questions? Focus on open-ended, light questions that make the person think a bit, but that will give you some insight into who they are. After all, that's the point of a first date, right? If you need some inspiration, here are some ideas to get you started.