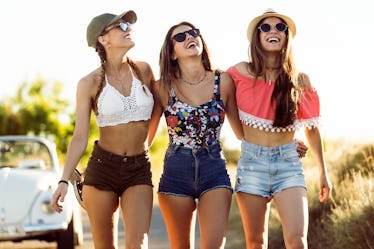 5 Pinky Promises To Make With Your Best Friends Before You Tie The Knot
Before you tie the knot, you take time to write your vows. You write down everything you want to promise your significant other — that you'll be there through thick and thin, and continuously strive to give them the happiness and love they deserve. Those promises are meaningful things that come straight from the heart, and always make your friends and family tear up. But, what you might not have considered are the promises to make your friends before you get married. These things don't require a ring or entire ceremony, but they're super important.
The truth is, your friends are your soulmates. They're the ones you chose to be with since day one, and haven't left your side since then. Like your significant other, they understand how your brain works, and always encourage you to be the best version of yourself.
Unlike your significant other, though, these girls have been the ones you've gone to with your worst break-ups and butterfly moments. They were there for the long nights, talking and laughing in your car over milkshakes, and the embarrassing moments in between. You have quite the love story together, so it's only right that you make these people five promises. Pinky fingers out, OK?