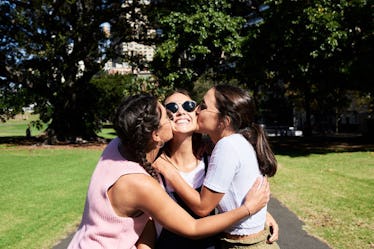 Make These 5 Promises To Your Best Friend Before They Move To A New City
Spoiler alert: This decade of your life will bring lots of change. You might be graduating college, starting to work for a new company, or moving to a new city. Some of the changes you'll totally expect, and others may catch you a little off guard. Either way, though, they'll be good and introduce you to a new chapter of your life. This chapter will be full of adventures, laughs, friends, and memories. It's really exciting, but also bittersweet. Truth is, this new chapter may bring changes like your BFF moving to another city where you won't be. If you're in that scenario, then you need to know some promises to make to your best friend before they hit the road to their new "home."
Believe it or not, these promises will mean more than any matching friendship bracelet you've ever had. They'll seal your bond and make you both realize that you have someone in your life who will be around for life's smallest and biggest moments. It's true: This BFF of yours will be in your wedding party one day, or texting you saying, "Hey, have you listened to the latest Jonas Brothers song?" You'll respond, "Duh," along with your full review of each lyric or high-pitched note. (Some things really never change.)
So before your best friend moves to a new city, have one more heart-to-heart. Extend your pinky fingers and make these five promises to each other. Got it? Good.