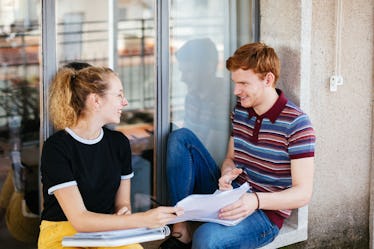 Dating In College Can Be Hard, Here's What Experts Recommend To Make It A Little Easier
You've probably heard that college is the greatest four years of your life, and in some ways, that can be true. But there's no denying that entering an entirely new dating scene when you're already experiencing so many other things for the first time — like being away from home or balancing some seriously heavy coursework — can be tricky. That's why dating advice for your college years, specifically, can be incredibly helpful. While you may be feeling nervous about dating in college, fret not! It can be really, really fun.
I'll be honest: It'll probably take some time for you to adjust to dating in college. It can feel like a whole new ballgame at first, and there may be times when you just feel so over it — just like with dating in general. But college is so unique. You're surrounded by people your age, who may often share your priorities, and perhaps a similar schedule. Don't be afraid to take advantage! And while hooking up may be a big part of dating in college for some people, not everyone is down for a casual fling, so don't worry if that's not what you're after. There are probably other students around you who feel the same way. I asked four experts for their best dating advice during the "greatest four years of your life," and here's what they had to say.