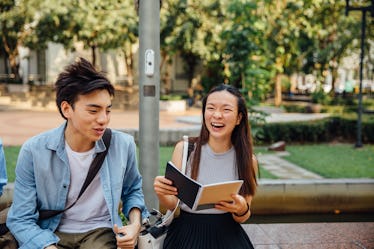 The Best Dating Advice For Your College Years, According To 9 Women Who Have Seen It All
College is the time for so many new experiences: exploring your academic interests, braving dining hall food (is chicken supposed to be yellow?), and wearing flip-flops in the shower. Without your parents there to watch over you, it can also be a time to test out the choppy waters of romance, maybe for the very first time. For those interested in dating but unsure where to start, I've collected the best dating advice for college years from women who have — against all odds — survived the college dating scene.
Dating in college can be challenging — there are so many new people, you might be experimenting with alcohol for the first time, and you could feel overwhelmed by the options. Perhaps there's an emphasis on hook up culture, and, for anyone who has ever proudly done the walk of shame, it can feels like a barrier to dating. However, the women I spoke to have navigated all types of romantic and sexual relationships, and are ready to share their wisdom.
I've collected advice from people who went to a variety of institutions — small liberal arts colleges, large universities, performing arts schools — so they really have seen it all. Read on to learn exactly how to get the best possible dating experience, at any college.