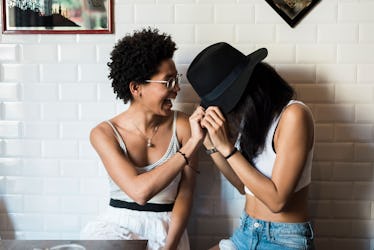 4 So-Called "Rules" About Dating In College That Just Aren't Legit Anymore
There was a time in which there were certain general dating "rules" in place. These "rules" had a certain heteronormative and sexist tone while cloaked in the "chivalry" of it all to make women think they were romantic. You, a woman, would wait for a man to ask you out. Yes, a man. You'd refrain from communicating with him a certain amount of days after meeting. You could only sleep together after a very specific amount of dates. These "rules" certainly didn't make sense for all women then and they don't now either. And the alleged college dating rules are restrictive in the same way.
These college dating rules aren't a thing, just like those older ones weren't either. When you get to college, you can date however you want, and there are no definitive set of do's and don'ts about it all. There may be things you hear other people say they do, but you're allowed (and I encourage you!) to embrace and approach dating at college however it feels most natural and comfortable for you.
There are plenty of strategies that work for some people in finding hookups or relationships, but just because someone had one bad experience with something doesn't make it universally wrong. And just because one thing worked for them, doesn't mean that's how you need to do it either. These "rules" don't matter, so don't let them weigh you down.