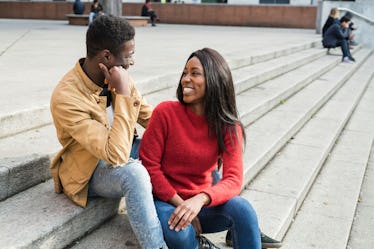 10 People Reveal Their Best Relationship Advice For Your College Years & It's So Liberating
Jumping into the college dating scene can be a new start to a very exciting chapter. While letting go of your high school years may be bittersweet, when it comes to dating, college is an amazing opportunity to get some more experience under your belt. Regardless of what type of relationship you're looking for, knowing the best relationship advice for your college years can make a big difference in how you navigate this new environment.
First off, if you're feeling overwhelmed or intimidated by the idea of dating in college, don't panic. It's totally normal to feel nervous when making such a big life transition that comes with new responsibilities. Even though you're going to meet a dizzying amount of people and find yourself in some unfamiliar situations, just remember that it's all part of the growth process. With a bit of patience and the right attitude, you will learn a lot about yourself and have plenty of fun along the way. Who knows? You might even meet the bae of your dreams when you least expect it. Ultimately, the most important thing is to be yourself, focus on your goals, and everything else will fall into place. Here are some solid pieces of advice Redditors had on how to handle dating and relationships in college.