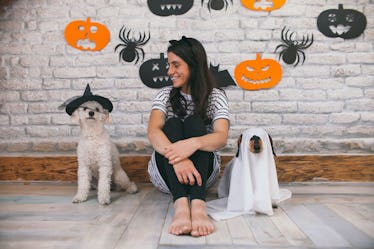 A Vet Shares 5 Tips That'll Make Sure Your Pet Loves Halloween Just As Much As You Do
If there's one thing I love more than Halloween candy — I'm talking about the really good stuff, like Reese's and KitKats — it's pets on Halloween. Whether it's a cat dressed as a unicorn or a puppy wearing his fiercest pirate outfit, I'm a total sucker for anything and everything pet-related during the Halloween season. But making sure the furry friend in your life stays safe and comfortable during the All Hallows' madness is just as important as posing for the cutest doggone IG photo you'll ever post. Once you're armed with a few pet safety tips for Halloween from veterinarian experts, you'll be free to enjoy the sugary festivities worry-free.
Most pet parents are familiar with the dangers of giving their fur babies chocolate, but you might not immediately think of some of the other potential issues surrounding common Halloween traditions. So, instead of having to spend the night worrying that your precious feline might put her paw in a spooky candle, or that your beloved pup might start gnawing on the electrical wires of your Halloween lights display, take a few minutes to pet-proof your home ahead of the big day. Of course, a big part of the holiday is having fun, so be sure to plan festive treats for your pet, too!