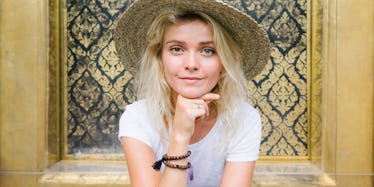 The Best New Year's Resolutions For Introverts Who Want To Change Their Mindset In 2019
If you're someone who typically gets drained from living in a largely extroverted world, I feel you on a spiritual level. Many introverts draw strength from solitude, they're usually phenomenal listeners, not to mention full of uniquely incredible ideas. Did I mention we're pretty awesome people? Anyway, these New Year's resolutions for introverts will probably speak to your soul if you cherish your alone time as much as I do. Introverts, unite!
Truth be told, introverted peeps tend to cringe at the spotlight, or being forced into human interaction — ring a bell? A good book, the fuzziest of blankets, and a cup of hot tea? Hand that sh*t over. A networking event or social gathering where you know absolutely no one? Yeah, that's going to be a hard no from me, dog (though sometimes these things are, indeed, a must).
Look, there's nothing at all wrong with being this way. In fact, introverts sometimes get a bad rap, but being that perceptive and in-tune with things is a blessing, not a curse. So, with the new year swiftly approaching, here are six resolutions you'll adore if you're a proud member of the introverted squad. Yeah, I just made that a thing, and this squad is where it's at.