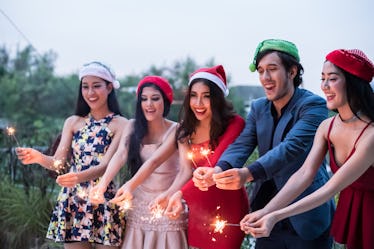 7 New Year's Resolutions To Make With Your Best Friends When The Ball Drops
A new year will be here before you know it, and if you lagged a little bit on last year's promise, you have some making up to do. You're a team player, so you're probably wondering what New Year's resolutions to make with your friends in order for you all to keep each other on track.
These don't have to be majorly extreme, but even if they were, you'd have a dope support system that is devoted to the changes with you. You do just about everything else with your friends, so why not share several resolutions? As much as personal resolutions for yourself mean something, you may have a better chance of keeping them if you know that other people are sharing the dedication with you.
It's sort of like gym class, when your teacher would make you do timed runs and every single second when you wanted to stop, you didn't, because everyone else was panting and suffering with you. Physical education was sort of the devil. Anyway, since you and your friends likely have a few things in common, it shouldn't be too difficult to narrow down some resolutions together. There's always room to be specific, but a few of these pacts can help get you all started.