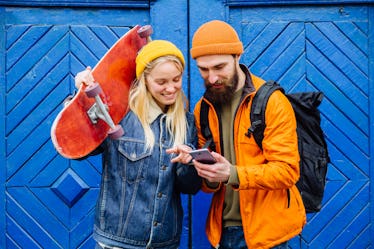 5 Myers-Briggs Personality Types Who Have The Happiest Relationships
Shutterstock
Your Myers-Briggs personality type presents a goldmine of information about your love life, like who you're most compatible with, whether you value commitment, and even how you handle breakups. So it should come as no surprise that there are certain MBTI types that just seem to crush it when it comes to relationships. Make no mistake, however: The Myers-Briggs personality types who have the happiest relationships don't get to avoid romantic difficulties, and they've had their fair share of heartbreak, too. But overall, the relationships they pursue are happy, healthy and furthermore, hella fulfilling.
As you might expect, certain traits — like agreeableness, optimism, and empathy — can set someone up for relationship success. One 2016 study published in the journal Personality and Individual Differences assessed correlations between personality traits and life satisfaction of 468 participants before and after they got married. The study found that women who scored low on the extraversion scale and high on the conscientiousness scale (meaning they're more careful and thorough) were more likely to experience a sustained happiness boost after marriage. The researchers concluded that this may be because conscientious individuals are goal-oriented, and therefore may strive harder to ensure that their relationship works.
But those aren't the only qualities that might positively impact your love life. Read on to find out which Myers-Briggs personality types tend to reach #couplegoals status.