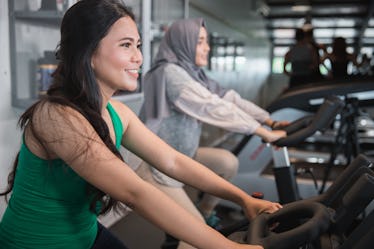 Cycling Instructors Reveal The One Benefit Of This Workout That You Probably Never Knew
If you've ever been in a bad mood and decided to hit up your favorite instructor's SoulCycle class to cheer yourself up, then you know the feel-good vibes that come with cycling are like no other. Or maybe you hop on your bike to commute to work each day, and you use those few minutes of alone time on the road to clear your head. Either way, the mental health benefits of cycling, whether it be in a music-filled studio or alongside a busy highway, are absolutely incredible, and prove that there are so many reasons to try this workout that have nothing to do with stronger muscles (though that's certainly a nice perk, too).
What's especially amazing about cycling is that it doesn't even take that long to notice the effects this workout can have on your mental health. A small 2015 study published in the Journal of Diabetes Complications showed that people who did cycling workouts for just 12 weeks developed significant amounts of something called brain-derived neurotrophic factor (BDNF), which is a protein that's responsible for the regulation of your mood, stress levels, and memory. In other words, hitting up a cycling class at your local gym, or biking outdoors when it's nice AF outside, can do way more for your brain and body outside of strengthening your leg muscles. Over time, this workout could literally change your brain chemistry, and as a result, it could help you deal with stress and mood swings in much healthier ways.
Elite Daily spoke with two passionate cycling instructors to get all the best details on what this workout really does for your mental health. Trust me, once you learn about these incredible benefits, it's all uphill from there (pun intended — sorry).