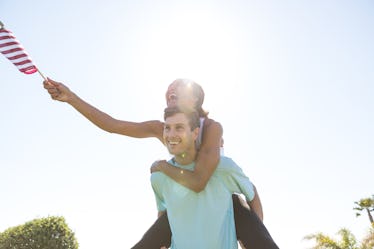 5 Memorial Day Weekend Date Ideas That Cost Under $25 & Are Legitimately Awesome
Memorial Day weekend is just around the corner — Monday, May 28, to be exact — which means now is the perfect time to turn your spring fling into a full-blown summer romance with a Memorial Day date. That said, you don't want to blow all of your cash for the season on an extravagant date that first weekend, right? Right. Enter these cheap Memorial Day weekend date ideas.
Honestly, in my mind, the thought of laying out in the sunshine and munching on watermelon with your SO is way more appealing than, say, a fancy four-course dinner. I also happen to be broke AF, but like, that statement still rings true.
If you, too, would rather save your pennies for a true vacay than blow them on an overpriced date night, you're sure to fall in love with at least one of these Memorial Day date ideas. They're all about enjoying one another's company (and hopefully some warm weather), but won't put you two out more than $25. And TBH, even if you're not in a relationship, why not plan to try one of these dates with a group of friends? Summer's calling, y'all.
PS: I'd be remiss if I didn't note that Memorial Day, while sun-soaked and full of celebrations, is all about honoring those who have lost their lives serving this country. So don't forget to thank the Vets in your life in between those barbecues and date nights, friends!