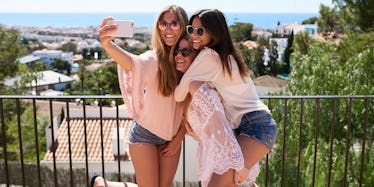 6 Spontaneous Trips To Take With Your Friends This Memorial Day Weekend
If you're craving an escape to recharge and get boozy on the beach with your girlfriends, Memorial Day Weekend is the prime time to peace out of town.
Break out your red, white, and blue apparel… and let's get packing, ladies!
Some of us are already booked up to the max with barbecues, pool parties, beach ragers, and lots of day drinking. Bring on the Jell-O shots, and keep them coming.
As for everyone else, the holiday weekend crept up so damn fast, we haven't even begun to set a game plan into action.
With only a few days left to plan, where does a busy gal even start?
If your squad loves to live in the moment, here are six trips to take this Memorial Day Weekend.
Bring the party to the Adirondack Mountains near Lake George for a fun rafting adventure with your gal pals. Trips are offered both in the Hudson or Sacandaga River.
This is a great way to kick off the season if your lady crew lives for outdoor activities and if you're all down for anything.
Rise above the mountains and relish the impeccable view from the top. After the balloon lands, savor a delicious champagne brunch, and have a toast with your main squeezes.
Beginning on Memorial Day Weekend, Wölffer Estate is hosting Sunset Fridays & Saturdays at the Wine Stand. Guests set up picnic blankets and chairs on the grounds, while socializing over cheese and charcuterie plates, as well as fine wines from the estate.
I mean, look at how chic that bottle is! It's, quite literally, summer in a bottle.
4. Rejuvenate at the Salt Cave and Spa in White Sulphur Springs, West Virginia
Put all of your stresses at ease. Refresh the mind and body on a relaxing getaway at White Sulphur Springs' Salt Cave and Spa.
From aromatherapy and facials, to salt/halotherapy and yoga, you and the girls will receive the pampering you deserve all weekend long at this refreshing oasis.
5. Go to adult camp at Club Getaway in Kent, Connecticut
This boozy twist on summer camp will certainly make for a weekend of fun.
Club Getaway is the perfect destination for those who are all about water sports, hiking, swimming, and drinking by day, along with dinner parties, campfires, and silent disco-ing at night.
This impeccable resort spotlights a top-notch spa, tennis courts, a beautiful golf course, crystal blue lake, and surrounding vineyards.
Horseback riding is an option for overnight guests, including a "breakfast ride," which includes a delicious pancake spread at Adobe Camp before embarking on your journey.