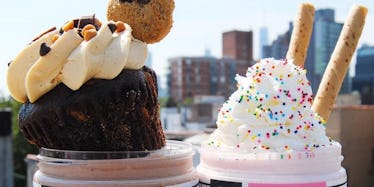 There's Finally Boozy Ice Cream With Enough Alcohol To Get You Drunk
Instagram
Not too long ago, we showed you some wine ice cream that was basically the answer to all of our pinot-filled prayers.
So if that vino-infused ice cream made all of your drunken dreams come true, you might want to grab a spoon and brace yourself.
We just stumbled upon another tasty treat that will get you lit AF.
Feast your eyes on the almighty Tipsy Scoop ice cream.
These glorious pints let you kill two birds with one bowl...
...by combining the best damn things on the face of the planet: alcohol and ice cream.
While most of the "boozy" ice creams out there barely contain enough alcohol to get you even slightly buzzed, each pint of Tipsy Scoop packs a much bigger punch.
In fact, one serving of this ice cream is basically equivalent to drinking a light beer.
I mean, seriously, why would you want to settle for some boring, old, sober scoops when you can stuff your face with some ice cream that's simply intoxicating?
Plus, it doesn't hurt that this ice cream comes in all sorts of delicious flavors, inspired by your favorite cocktails.
So you're bound to find a bougie flavor that perfectly compliments your blackout, whether you're into chocolate and whiskey...
Vanilla bean and bourbon...
Maple bacon-infused booze...
Cake batter vodka...
Red velvet martinis...
Spiked hazelnut coffee...
Hot-buttered rum...
Tipsy mint chocolate chip...
...and some seasonal spiked flavors that are perfect for turning up as the leaves fall.
Plus, there are even some fancy sorbet flavors...
That will let you turn up with rosé all day...
And some alcohol-infused ice cream sandwiches...
...that look downright heavenly, to say the least.
If you're looking to get ice cream wasted...
...you can order these boozy treats in sets of four from Tipsy Scoop's website.
Cheers!
Citations: Deliciously Boozy Ice Cream Strong Enough To Get You Drunk (Design Taxi)