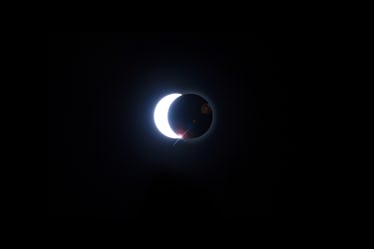 5 Lunar Eclipse Party Ideas For All Of The Moon Goddesses Out There
Something's coming, and it's going to be big. If you haven't heard about the Super Blue Blood Moon that's headed our way on Jan. 31, 2018, I've got some news for you: You just might be living under a rock. Seriously, this celestial event is the talk of the Internet, and for good reason. This moon won't take on a shade of blue — I'm sorry to disappoint you — but it will take on a beautiful reddish hue and appear larger than normal. If you've been in tune to the happenings in the sky throughout the past year or so, you know that any lunar event is a great excuse to throw a lunar eclipse party.
There's just something so captivating about a solar event. It takes you back to your space-obsessed days as a kid, complete with your NASA badge and all. (I can't have been the only one, right?) You never know what a new phase of the moon might bring into your life. It could be embracing a new stage in your career, a new friendship, or even just a new outlook on a relationship. Whatever it may be, I'm pretty sure it's worth celebrating.
So, if you've been itching to get some people together, this lunar eclipse is the time to do it. And just how do you throw a killer lunar eclipse party? It's easier than you think. These five options are great places to start to feel like a true moon goddess with your besties.