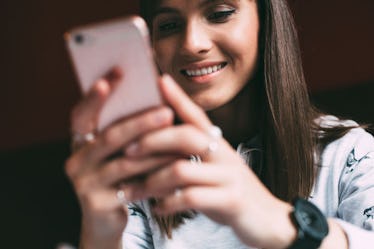 5 Long-Distance Valentine's Day Date Ideas That Will Make Your Celebration So Romantic
When you're in a long-distance relationship, coming up with ways to celebrate Valentine's Day apart can definitely be a struggle. And let's be honest: The fact that you and your SO won't be together is likely going to be a bummer. Fortunately, there are actually a ton of romantic ways you can keep one another from sinking into a Valentine's Day blues. Figuring out some long-distance Valentine's Day 2019 date ideas that will ensure you and bae still have a good day might seem like a tall order, but with a little planning, it's totally doable.
Regardless of your stance on how important (or unimportant) it is to celebrate V-day, when you're in a LDR, it can be vital to utilize every possible opportunity to connect with your SO. As someone who's experienced the emotionally draining nature of a LDR, I can certainly attest to the difficulty of spending most of your time without bae. That's why taking holidays like V-day seriously and making the most of them can be a surprisingly effective way to keep you both feeling positive and optimistic about the relationship and its future. So, here are some V-day celebration ideas that are fun and romantic.