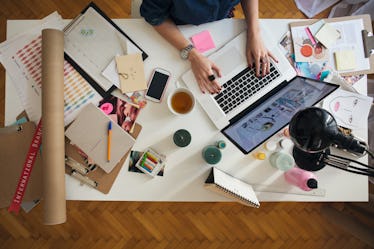 These 5 Little Things Can Calm Anxiety In An Instant & They'll Fit Right On Your Desk
Feelings of stress and anxiety can often balloon into something that seems totally out of your control, to the point of derailing an entire day. Although stress can obviously come from a variety of sources, it could just be that you need little things to calm your anxiety while you're at work, when you're suddenly feeling overwhelmed by that ever-growing to-do list. Sometimes, it really is the smallest thing that can make the biggest change in your overall mood, and for all you know, it could be the difference between being productive and being totally unable to get a single thing done.
Most people don't have the luxury of leaving their place of work every time they feel stressed out, so the best thing to do is to bring the relaxation into the office, rather than seek it elsewhere. A yoga class is an excellent way to relieve stress, sure, but a stress ball could be just as effective, and one of these two things can be accessed without having to get up from your desk — see what I mean?
Generally speaking, when it comes to dealing with stress, it's best to have more than one strategy in your pocket, at any given time. So, if you can't leave your office today, but you're still feeling super stressed, consider looking into any of these strategies to help you calm down.