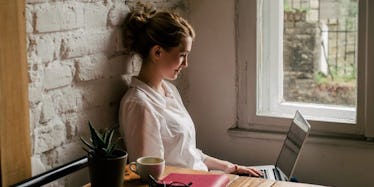 7 Little Things To Keep At Your Work Desk For When Stress Is Running High
If you're anything like me, it's hard to hide your frustrations at the office, and even more impossible to work them out with a deep yoga sequence in an empty conference room. At least when you're feeling overwhelmed at home, you have a wide variety of activities and playful distractions to keep you from thinking about whatever's bothering you. If you've ever wondered about how to reduce stress at work while stuck at your desk, there are a bunch of toys and gadgets you can keep at the office to play off the pressure when you don't have time for a coffee break.
According to a new study performed by the RAND Corporation, Harvard Medical School, and UCLA, more than one in four American workers feel they don't have a sufficient amount of time to finish their assignments, leading to an over-spill of stress off the clock. Yikes.
Being a workaholic myself, I can sympathize with employees who take their work home with them. Still, office stress should start and stop at the office, period. To ensure a heavy workload and responsibilities don't negatively affect your leisure time at home, give one of these trinkets a try to reduce stress as it comes.
1. Lotion Up
Bath & Body Works Aromatherapy Eucalyptus Spearmint Body Lotion, $13, Bath & Body Works
I find every aspect of this lotion to be therapeutic. From its calming scent wrapped up in eucalyptus and spearmint, to the act of massaging it into my hands, I highly recommend keeping a bottle at your desk to smooth on when you're stressed out.
2. Tea Bag Tip
DavidsTea Buddha's Blend Sachets, $10, DavidsTea
Office kitchens are generally stocked with the basics: black tea, coffee, cocoa. This is ideal for an average morning or typical afternoon caffeine trip, but when stress levels run high, you might want to consider bringing your own brew.
DavidsTea's Buddha's Blend harmonizes white and green tea with jasmine pearls and fragrant hibiscus blossoms to calm your mind and senses.
Take a word of advice from Finding Nemo and just keep sipping, just keep sipping...
3. When In Doubt, Write It Out
ModCloth I Totally Got This Guided Journal, $12, Amazon
More often than not, stress is caused by a jumble of emotions and thoughts piling onto one another like dirty laundry you keep putting off.
Instead of panicking when your boss bumps up your deadline minutes after you've spilt coffee all over your crisp, white blouse, take five minutes or so to write off all the baggage in your brain.
4. Squeeze The Stress Away
Oriental Trading Barbell Stress Toy, $15, Oriental Trading
No time to hit the gym to work off a little stress at lunch? These adorable barbell stress toys work the weight off your shoulders one rep at a time.
An awesome take on the traditional stress ball, everyone will be asking for a squeeze come crunch time.
5. Fidget When You're Frustrated
Starsprairie Fidget Cube, $10, Amazon
Fidget spinners were a hot commodity following their release, and even a few months later, these rotating toys are still being talked about and used by adults just as much as children. But it's time for an upgrade.
Keep one of these cubic solutions at the corner of your desk for fidgeting on demand that won't bother your desk-mate half as much as pencil tapping (who knows, they might even ask to play along).
6. Meditation By The Book
My Pocket Meditations: Anytime Exercises for Peace, Clarity, And Focus, $9, Amazon
You don't have to be propped up on a yoga mat in a dimly lit studio to find your inner zen. Find a quiet spot at the office (maybe in an empty conference room), or plug in a pair of earphones to drown out the sounds around you and open up to one of Meera Lester's miniature practices.
Whether you're searching for peace, willpower, forgiveness, or gratitude, there's always a quick method to get you in the right headspace.
7. Some Oils Really Are Essential
KORA Organics Heart Chakra Aromatherapy Oil, $48, Sephora
Feeling stressed at your desk? Think happy thoughts, and smell happy scents!
This oil is made organically and features notes of rose and warm sandalwood to relax the mind and nervous system. Utilize the rollerball by applying the mixture at the inner wrists, base of the neck, behind the ears, and over the heart to unwind ASAP.