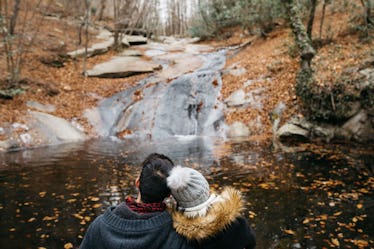 These Leaf Peeping Trips To Take With Your SO Will Give You Heart Eyes
If you're anything like me, you have all the heart eyes for fall. You adore sipping warm coffee on crisp mornings, and might spend a majority of your spare time looking into leaf peeping trips to take with your SO. You may have the best foliage trackers bookmarked and a note in your phone with various notes on hiking trails and scenic routes.
That's all well and good, but I don't think you should waste another minute scrolling on the Internet for autumn travel tips and tricks. Before you know it, the peak of the season will have passed and been traded in for snowy mountaintops, holiday decor, and wintery sips. You'll have missed out on your opportunity to wake up in a magical place with the love of your life, and gaze at the orange, yellow, and red trees that seemingly stretch for miles.
By that time, you two will be shopping for the holidays, or snuggling up on the couch and watching Elf instead of Hocus Pocus. Long story short: The time to take an adventure is now while Mother Nature is putting on a stunning show. It's time to pack up your car with a camera, flannels, and cozy blankets, and drive with your SO to places that'll give you major heart eyes. These five destinations in the U.S. should be exactly what you're looking for — leaf peeping and having a gourd time with bae.