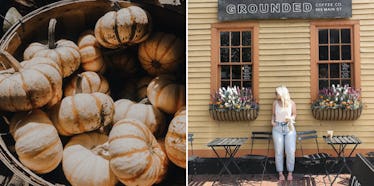 These Fall Date Spots In Connecticut Are Truly Pumpkin To Talk About
When the leaves begin to change and the air starts to smell like pumpkin spice and cinnamon lattes, I go into major fall mode. I start making plans to go to the fair on my days off and eat loaded baked potatoes, and text my boyfriend things like, "Look at these mini gourds I got at the grocery store." So you can imagine that, by now, I've scoped out the sweetest fall date spots in Connecticut.
I've tracked down the coffee shops that are decorated with the perfect purple and red flowers, and the hiking trails that are incredibly ideal for peeping at the foliage. I know what food trucks will score you the funniest snaps, and which carnival rides your boo will likely love most. Let me tell you: the beaches in this state are pumpkin to talk about this time of the year too. The sun might not be glowing quite as strong and the waves might be chilly, but the lack of crowds makes the shoreline a quaint spot to cuddle up and enjoy a picnic with bae.
Will you adventure to the breweries, farmers markets, and pizza joints to see the coziness and seasonal magic for yourself? I sure hope so, because these five spots in Connecticut are made for the fall dates you're planning with your SO and will give you two pumpkin amazing to talk about.