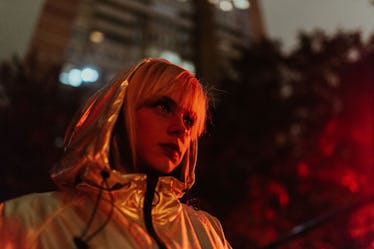 Night Owls Will Thrive At Any Time With These 5 Habits In Their Everyday Routine
Boris Jovanovic, Stocksy
Sleep is one of the most important factors in taking care of your physical and mental health, but even though there's plenty of concern over how many hours of shut-eye you clock in every night and the quality of sleep you're getting, does the question of when you sleep make a difference in your overall health? For example, I trained myself to be an early riser because waking up at the crack of dawn and knowing that I've been productive since 6 a.m. makes me feel amazing. But what are the healthy habits for night owls who aren't naturally nocturnal? What helps them thrive throughout the evening? I mean, personally, I give anyone who stays up past 11 p.m. a lot of credit, because I can barely stay up past 9 p.m. on weeknights — OK, OK most nights — but seriously, how do you actively prepare yourself to stay awake well into the late hours of the night?
For me, staying up late would probably require caffeine — and lots of it. But here's the thing about downing a lot of caffeine: An excessive amount of the stuff can actually lead to insomnia, according to Healthline. So, sure, caffeine will keep you up, but if you go overboard on refills, too much can a) make it difficult to fall asleep when you're ready to hit the hay, and b) mess with your sleep cycle overall, in that your quality of sleep may suffer as well, as per Healthline. In other words, there goes that idea.
Some people are natural-born night owls, some come out of the womb all about the early mornings, and then there's a percentage of people who don't exactly get to choose whether they prefer to stay up late or wake up early. Sometimes you have to live life according to your given circumstances — meaning, if you're working night shifts at your job or taking evening classes for grad school, then you're going to have to navigate doing so in a healthy way because, unfortunately, there are some negative health issues linked to the nocturnal lifestyle, according to the results of a new study.
The study, performed by a team of researchers at Northumbria University in England and published in the biomedical journal Advances in Nutrition, found that night owls tend to develop unhealthy eating habits over time, which can lead to a higher risk of developing health issues such as heart disease and type 2 diabetes, as per a press release from Northumbria University. Basically, this happens because when your circadian rhythm (aka your body's internal clock that controls when you naturally feel tired at night and wake up in the morning) has to work with a schedule where you're staying up late and sleeping in on a regular basis, your eating schedule can be thrown off-kilter, too. In other words, the later you start and end your day, the later you eat your meals, and, as per Northumbria University's press release, the more inclined you may be to have "more alcohol, sugars, and caffeinated drinks and fast food than early risers."
Of course, it doesn't have to be that way for all night owls; as long as you're mindful about adopting a few healthy habits, you should be in the clear. Here are a few expert tips to help train yourself to function on a night owl's schedule, without risking your health in the process.